Alistair Group offers fleet management solutions that allow us to completely manage any of our clients' fleets. Our clients own the assets and Alistair Group manages all aspects of them. We ensure to keep a fleet running efficiently, on time, and within budget. We monitor fleet activities and handle driver training, fleet maintenance, route controls, automation, fule management and more. The industry is suffering from a lack of trailers and trucks which is closely related to the rising transportation costs and rising network complexity. Alistair Group's dedicated fleet solution aims at directly alleviating this bottleneck in the industry by managing the movement of goods from collection to delivery site.
WHAT DOES THE TERM "MANAGED FLEET" MEAN?
Our client acquires the assets and Alistair Group will manage them
Specific assets and teams are allocated to each client – the client is always the priority.
Cost Plus contract: The client pays for real costs plus a management fee – there are no hidden profits
Alistair Group provides complete transparency of costs through monthly reporting – there are no hidden costs
Our clients have the freedom to choose the level of service Alistair Group provides. For example, our clients choose if security is included, what are the driving hours and more. The control of operations remains in the power of our clients.
The Alistair Group's proprietary transport management system controls all transactions
Full trip expenses are controlled and paid; paving way for future supplier leverage and scale
Access to a unique client dashboard allows all clients real-time visibility into their trips
WHAT IS THE COST OF IT?
In a "bull" market (lack of transport solutions), you will always be under market rate due to the transparency of costs
In a "bear" market (over transport solutions), you may have a hedging cost if some transporters are working under break-even (which is not sustainable and won't last in time)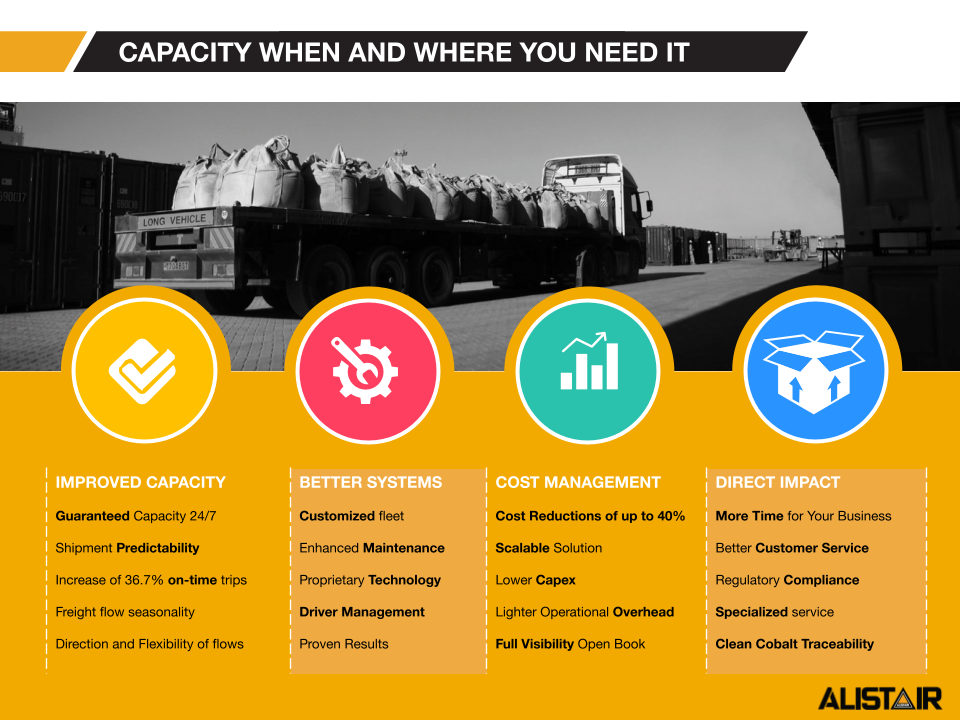 | 01 June 2022